Hialeah High School Today
Construction of Hialeah High School was completed in 1954 and it graduated its first class in 1957. In 1954, there were only grades 8 through 10. Each year thereafter, the 10th grade moved up to 11th grade, 9th grade moved to 10th grade and so on. So in 1957 Hialeah High School had acheived its goal of becoming a typical high school with only grades 10 through 12. Our Class matriculated into the school in September 1961 when the building was only 7 years old: we essentially walked into a very new school facility.
Home News article provided by Mike Wills: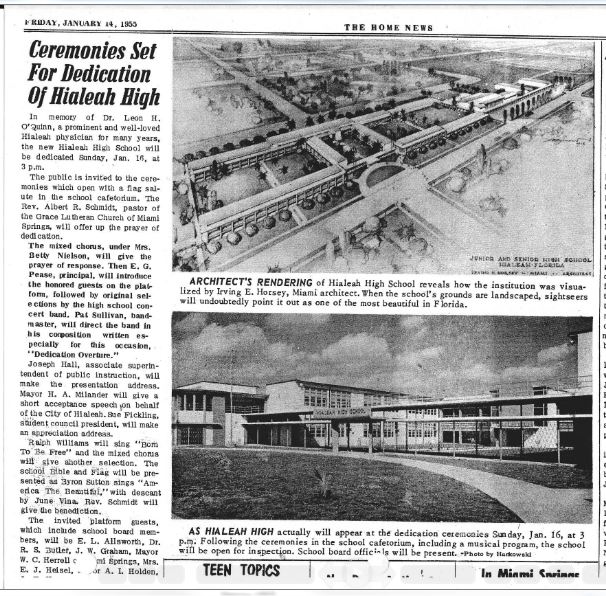 This year Hialeah High School will be 62 years old...and it is definitely showing its age! The photos you see were taken in 2008 and 2014. If you have current photos of Hialeah Senior High School, please send them to the website administrators and we'll try to include them in this gallery.
If you recall, our air conditioning and heating system was quite simple. When it got hot, which was most of the time, we opened the windows as wide as possible and, if it was really hot, we turned on whatever fans our teachers put in our rooms. When it got cold, which wasn't very often, we shut the windows! I don't believe that system is acceptable today.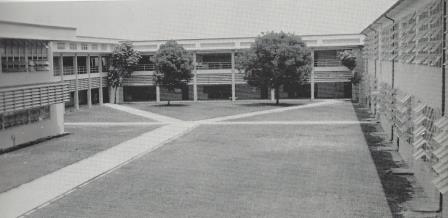 One of our classmates, who happened to retire from the Miami Dade County School District, was asked why the District has not spend the money necessary to keep Hialeah Senior High School in a good state of repair. He said: "Voters in Dade County have not had a school bond issue on any ballot for quite some time. Lotto money cannot be used for building or maintenance, only curriculum. IT's very hard to explain, given the populations distaste of any taxes in Dade County. In Florida they passed the amendment that to pass any legislation requires a 60% vote. That's a tough number to reach in most elections/issues."

Not long ago the School District found some money to take care of basic systems, security and safety items...not the cosmetic items that improve its appearance. The following was provided on December 11, 2014 from the Miami-Dade County Public Schools:

HIALEAH HIGH SCHOOL KICKS OFF GO BOND PROJECT Schools Superintendent Alberto M. Carvalho, School Board Chair Perla Tabares Hantman, Hialeah Senior High Principal Heriberto Sanchez and several District representatives gathered at Hialeah High this morning to kick off its General Obligation Bond construction project.

Slated to be completed January 2016, Hialeah High's planned renovations include major building improvements, upgrades to lighting, plumbing, flooring, gymnasium, security and safety systems, among others. The school also will receive a new energy management system, new drop-off and covered walkway and classroom technology.

The GOB program provides a total project allocation of approximately $15 million and the School Board commissioned the architectural firm of Wolfberg Alvarez & Partners as the architect of record. Wolfberg Alvarez & Partners is certified by the District as a minority-owned firm and has committed to a 25 percent small and micro business utilization goal.

Hialeah High originally opened its doors in the early 1950s, and over time renovations have been undertaken and new space has been added, including an auditorium and most recently a parking structure under collaboration with the City of Hialeah.

The design work on this project was just completed. They should be advertising the project and selecting a construction contractor in the very near future.

Maybe there is something the Class of 1964, along with the other alumni of Hialeah High School, can do to help make Hialeah Senior High School a better place for students to learn, teachers to teach and athletes to play? Do you have some ideas?

Vince (Vinny) Rusinak, President, Class of 1964

Just click on the photos to enlarge them.


UA-75863988-1