ANNOUNCEMENTS
Atlanta Roundup October 28th
Details for the the first, and hopefully to become the annual, North Georgia HHS Class of 1964 and 1963 Roundup, are now availaible.
Main Course:
When: Thursday, October 28, 2021
Where: CHANGE!! Houck's Grille, 10930 Crabapple Road B130, Roswell, GA 30075
Time: From 2:30 pm until the restaurant manager tells us we have overstayed our welcome
Cost: Order from the special menu; separate checks.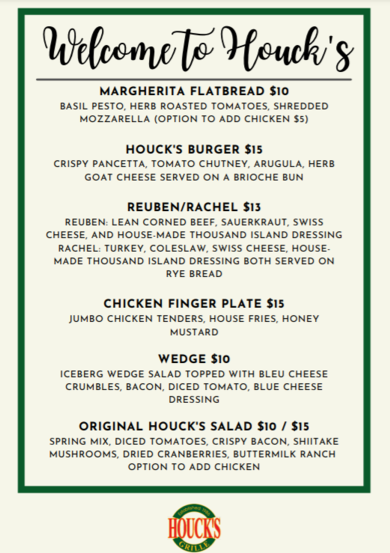 Dessert and Beverages Afterwards at Caryl/Artie Broaderick's Home Until ??:
Where: Caryl (Gardner) and Artie Broaderick's home which is 10 minutes away from the restaurant: Address to be provided later.
Cost: Caryl and Artie's treat!! Pretty good deal if you ask me, but no one asked!
Caryl's Contact Info: Call or text her at 727-433-2175 or her email is carylbroaderick@gmail.com
Hotel accommodations for those coming from afar and want to stay the night or more:
Where: Hampton Inn Alpharetta, GA; 16785 Old Morris Road; Alpharetta, GA; 678-393-0990. Be sure to mention you are part of the Hialeah High School Roundup and you will get the double room rate of $100/night. To get this rate for all the days you will be staying, YOU MUST make your reservations on or before Friday, the 8th of October To make reservations online you can use the following link: https://www.hilton.com/en/book/reservation/deeplink/?ctyhocn=ATLMRHX&groupCode=CHHHHR&arrivaldate=2021-10-27&departuredate=2021-10-29&cid=OM,WW,HILTONLINK,EN,DirectLink&fromId=HILTONLINKDIRECT
Space is limited at the restaurant so you will need to RSVP:
Bill Coffeen has agreed to help Caryl by taking reservations and keeping track of those who plan on attending. If you know or think you will be attending, call or text Bill at 251-751-5702 or email him at wgcbpc@comcast.net. He will need the following Information from you:
a. Your name and the names of those (classmate, spouse/significant other, other guest(s)) coming with you.
b. Whether you are coming just to the restaurant or to Caryl/Artie's home...or both.
c. If you are staying at the hotel.
You might think why come...that you will know no one and no one will know you that lives in this area. Remember, the Class of '64 had over 1200 students walk the halls during our 3 years at HHS? From the Ormond Beach Roundups, we found that we have all changed (for the better, of course). We have had careers we never thought we would have had back in high school. Many of us raised children...high school was a breeze compared to raising kids. We had, and some still have, careers doing all sorts of things. Of course, raising kids is a career in itself! We are different now, but to our classmates, they can still see our faces as we were in our yearbooks even though we "might" have changed a bit over the years. Caryl and Artie want to invite the HHS Class of '63 to join us. This is great because if you attend and see someone you think looks old, you can safely assume that they must be someone in the Class of '63.
The May 2021 Ormond Beach Roundup had a record number of attendees...over 30. Covid was an issue back then, but many classmates, all of which I believe were vaccinated, accepted the risk and attended the Roundup. It will still be an issue this coming Roundup in Atlanta, but I would assume everyone attending this Roundup will be vaccinated, and maybe, by then, will have had their booster shots. Going anywhere these days has it's risks, but we can do our part to minimize them. I'm sure everyone that attends this Roundup, like the last one, will do their part to keep everyone safe!

Hope you can attend!

Vince "Vinny" Rusinak

UA-75863988-1